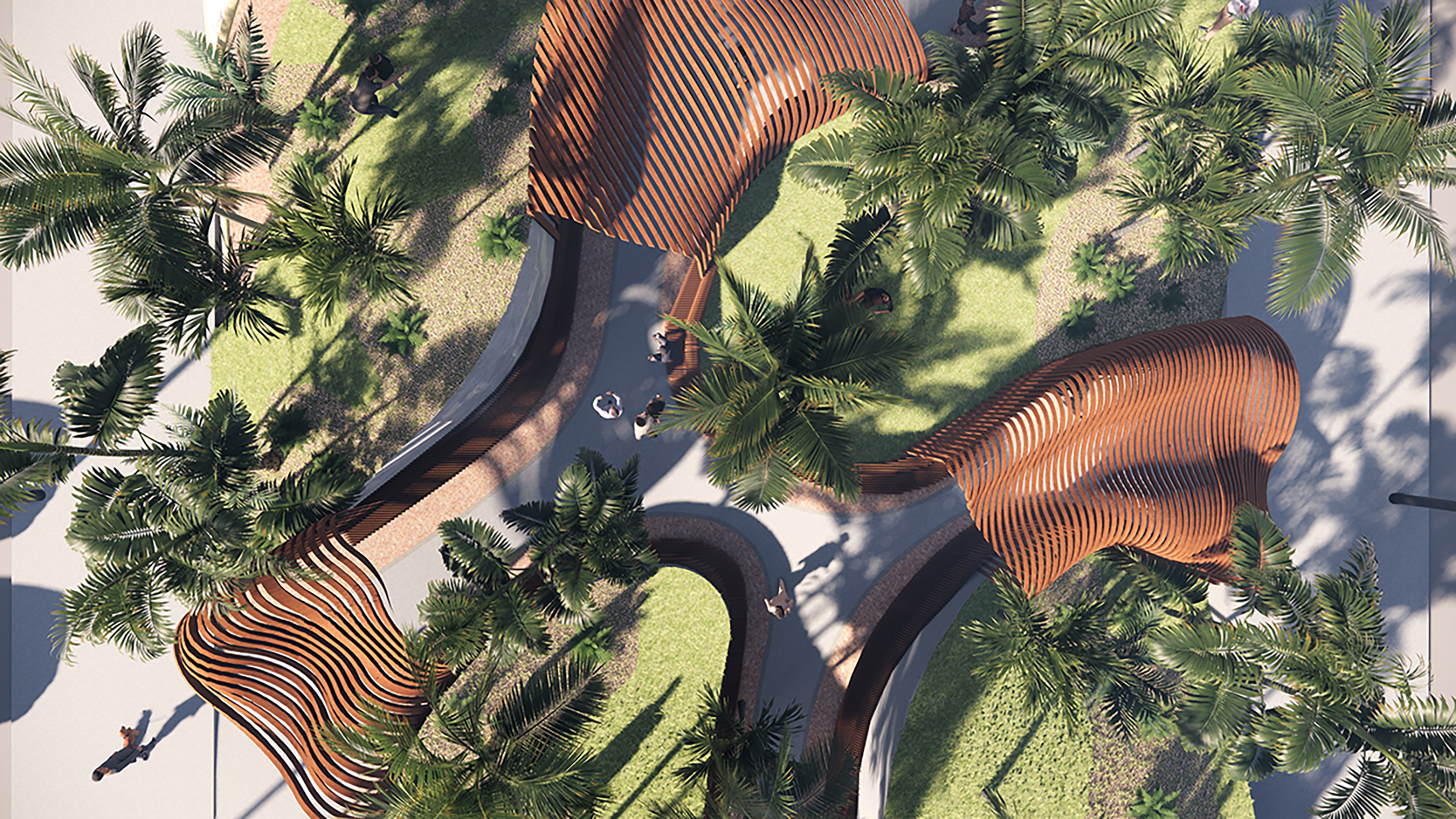 Extreme heat, an often overlooked effect of climate change, is an advancing danger that can make our beloved cities uninhabitable. When paired with the Urban Heat Island effect, the combination can be lethal. The Urban Heat Island effect is a phenomenon where cities endure unnaturally warm temperatures year-round. This can result from a number of factors, including excessive vehicle emissions and smog, over-density and poor design of buildings, a higher ratio of pavement to green space, and the production of waste heat from mechanical systems like air conditioning.
According to a 2017 study by the Natural Resources Defense Council, if nothing is done to mitigate climate change and the Urban Heat Island effect, the number of heat-related deaths in New York City each summer could reach 4,500 within the next 30 years.
Alarmingly, just three years since this study was published, New York City has been reclassified as a subtropical climate. This means warmer winters and even hotter summers going forward. New York City, accustomed to moderate, mostly tolerable heat, is only beginning to adapt to this new reality. Our future climate will begin to reflect traditionally warm environments like Abu Dhabi, where extreme heat is already making public outdoor spaces unusable several months out of the year. As climate change advances, this will only get worse. A recent BBC article on Extreme Heat says that by 2070, more than 3 billion people will live in extreme heat conditions.
Cool Streets New York
Aware of this looming future, Perkins Eastman has been studying innovative ways to combat climate change and the Urban Heat Island effect through achievable and sustainable solutions. We have observed how the coronavirus has pushed public agencies to recognize the importance of accessible outdoor space, and are taking note of the overwhelming support for street closures, outdoor seating, bike infrastructure, and increased demand for public parks and plazas. With this new attention, we believe metropolitan cities are ripe for what we call "cool communities". We designed a toolkit of options in 2018 with suggestions for cooling New York City's public realm. This spectrum of initiatives, which are free and accessible to users, sought to reduce the Urban Heat Island effect in "high risk" communities: lower income neighborhoods with minimal access to air conditioning, public parks, and other publicly accessible spaces that can provide escape from the heat. These communities are high risk not simply because they lack cool spaces, but because their higher rates of chronic illness make them particularly susceptible to heat stress and heat-related death.
By uplifting the environmental health of these most vulnerable communities, we determined that we can uplift community health on a larger scale. Our "Cool Streets" proposal, presented to New York City public agencies, aimed to build resiliency in these communities, and the city at large.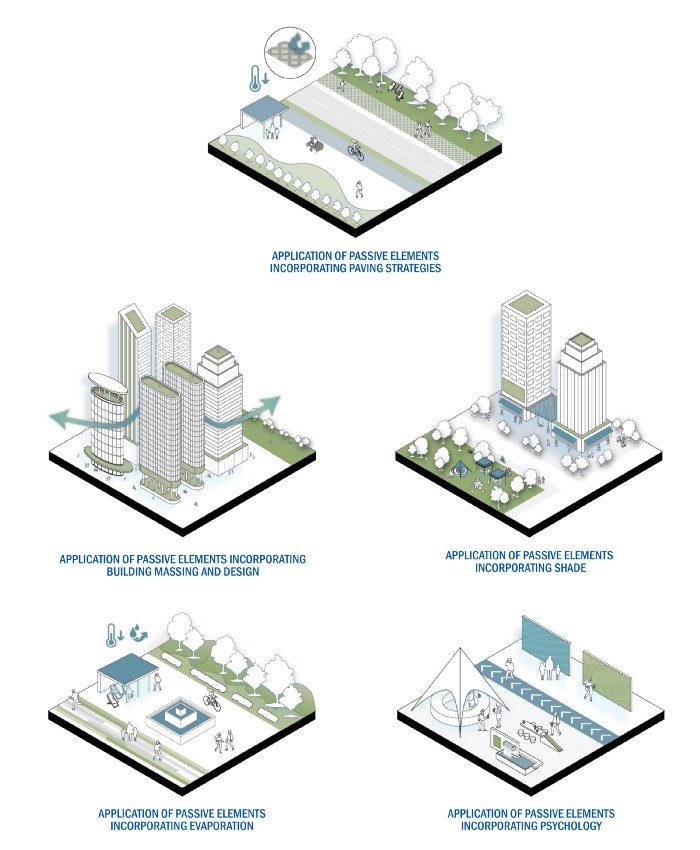 Passive Design, Sustainable Cooling
Passive cooling design strategies, including shade structures, vegetation, and other initiatives that don't draw energy from the grid, were a major focus of our Cool Streets study. These interventions are often more economical, easier to implement, and more sustainable than active cooling strategies such as air conditioning and fans. We explored building massing, materials, and orientation; landscaping and hardscaping: paving technology, shade, and evaporation; as well as psychological approaches to keeping cool. For instance, merely shading a surface can reduce the air temperature of the material by 20°F to 45°F. Evapotranspiration — a process where water evaporates off plant leaves, absorbing heat and cooling the surrounding air — can reduce air temperatures by 2°F to 9°F. Beyond physical temperatures, our research indicates that psychological perception of temperature — how cool we feel — also has an impact on our physical state. Through "cooling" images or art installations — cool shades of blues and greens, and calming graphics and textures, the sensation of coolness, even on a hot day, can be achieved. All of these initiatives can help improve comfort and minimize the health impacts associated with extreme heat.
Cool Abu Dhabi
This summer, we took our Cool Streets ideas abroad, entering the "Cool Abu Dhabi" competition to design a sustainable plaza within the city. We were inspired to make Abu Dhabi a leading city in the future of urban design and climate change. If, in 50 years, almost half the world will live in extreme heat conditions, Abu Dhabi provides a key opportunity for innovation.
As a city built around an extreme climate, Abu Dhabi can stand as a model for newly affected cities, helping them better prepare for climate change effects such as extreme heat. Abu Dhabi has an opportunity to demonstrate that cities can adapt and prosper despite the heat, and this may help to redirect worldwide conversations towards adapting city design to accommodate new climate realities.
Sense of Place: "Al Maqeedh"
Creating a sense of place when designing these public spaces was paramount to our approach, which required engaging local communities. Tamer Youssef, AIA, Studio Design Director in our Dubai office, meticulously researched the history of Abu Dhabi with his team and titled our design proposal "Al Maqeedh".
"Al Maqeedh is an antiquated term for the seasonal migration toward cooler climates in hot summer months. It was considered a symbol of reprieve, where families composed songs and poems, where a community came together. At that moment, we had found our inspiration: the same environmental negligence that has driven urban temperatures up, are also responsible for dissipating a defining characteristic of local Bedouin cultural heritage — to the point of obscurity. We wanted to reinvigorate the concept of Al Maqeedh, bringing its significance into the modern city of Abu Dhabi," Youssef explains.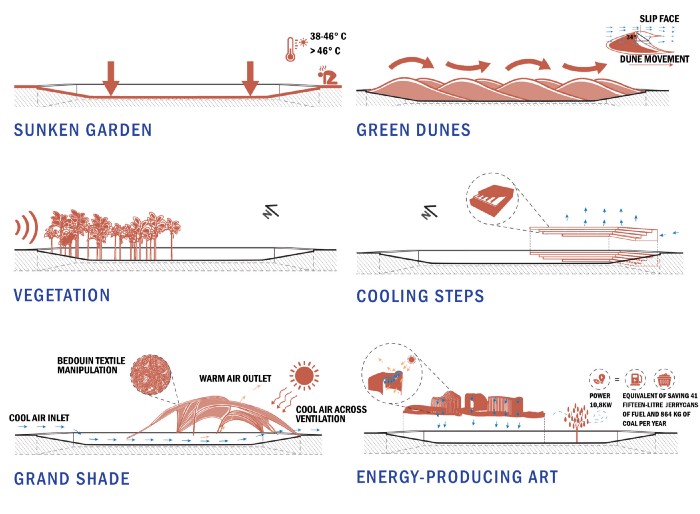 Drawing on the principles of Al Maqeedh, we visualized a shade structure inspired by Bedouin tents, and "green dunes" that mimic the desert environment, while cooling the plaza by trapping wind, among other cooling initiatives. Not only is this plaza a useful and attractive space for residents and visitors, it also seamlessly roots itself in Abu Dhabi's rich culture, representing a city with ambitious environmental goals.
Two continents away from Abu Dhabi, New York City's cooling initiatives, like "Cool It! NYC", highlight just how important community and "place" are to environmental — and public — health. While the rollout of "Cool It! NYC" has taken important first steps in creating cool communities, it will need to continue to improve with better community engagement. Public places, including cooling centers, need to incorporate design elements to bring people together safely, especially since older residents, and those who live alone, are not as easily looked after by members of the community. This disconnect is a major factor that puts older and isolated people at higher risk of heat-related illness and death. Designing spaces that equitably prioritize people and connection — "placemaking" — helps to remedy this issue and is essential to the success of Cool It! NYC and similar programs.
Cool and Healthy
In a future where extreme heat makes outdoor spaces uninhabitable, the need for cooling initiatives like Perkins Eastman's Cool Streets and Cool Abu Dhabi are essential.
If, as predicted, pandemics like COVID-19 become much more commonplace, climate change and future epidemics will be a dangerous combination, especially in situations where rates of transmission are much higher when people are indoors and within close proximity of one another.
Improving health in the built environment must be done so holistically –sustainably, psychologically, medically, socioeconomically. These priorities are invariably linked. Perkins Eastman continues to study how to steer the design of our cities toward a cooler and healthier future. There is much more to be done, but following the guidance of maintaining physical distance, while also providing equitable access to cooling places, are steps in the right direction.