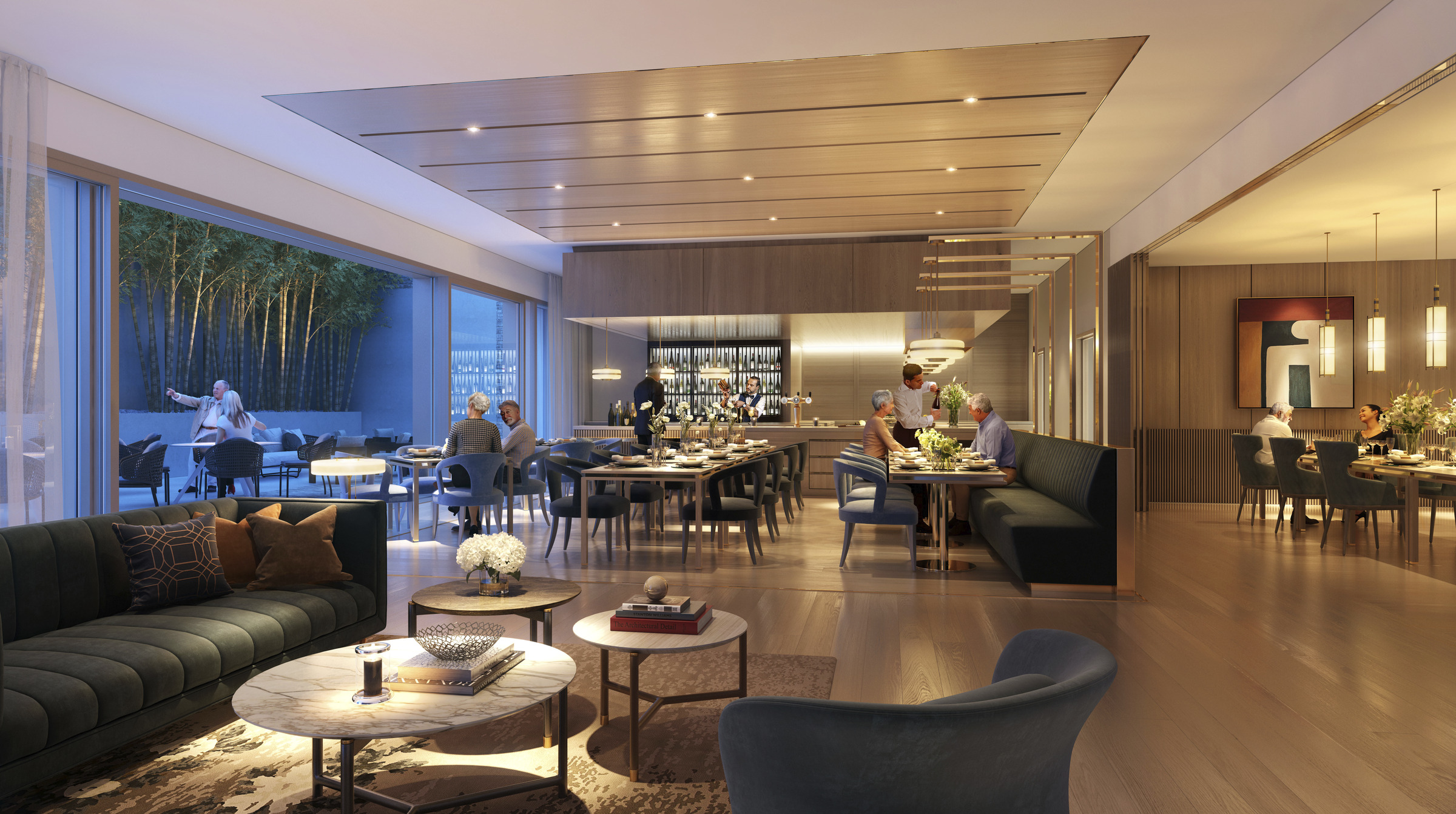 Culinary programs — in healthcare, hospitality, higher education, workplace, and so forth, face unprecedented challenges as all adapt to self-imposed guidelines and new regulatory standards amid the pandemic. Life plan communities in senior living are no different in this regard and share many of the same challenges and considerations. Prior to COVID-19, culinary design for senior living communities placed significant emphasis on engaging these residents and creating community through unique restaurant experiences. Looking to the future, Perkins Eastman is reframing our design approach while upholding the importance of consumer expectations and the creation of memorable moments. This approach includes an emphasis on authentic experiences, distinctive branding, health and wellness, flexibility and choice, going green, and initiating innovative partnerships.
Based on our experience and conversations with industry experts, we are analyzing the current effects and lasting impact of the pandemic on culinary programming within communities for older adults. Joe Hassel IIDA, Principal and Board Director at Perkins Eastman, shares our findings.
There will be "no magic switch to turn this back on," said Chef Matt Schuler, Director of Culinary Development for SCOPOS Hospitality Group. He noted that it will take time to reengage residents to dine in our restaurants and earn back their trust.
Some solutions will be short term, lasting as long as it takes to find a vaccine or treatments for the virus, while other changes, from a behavioral or expectations standpoint, may be longer lasting or indefinite.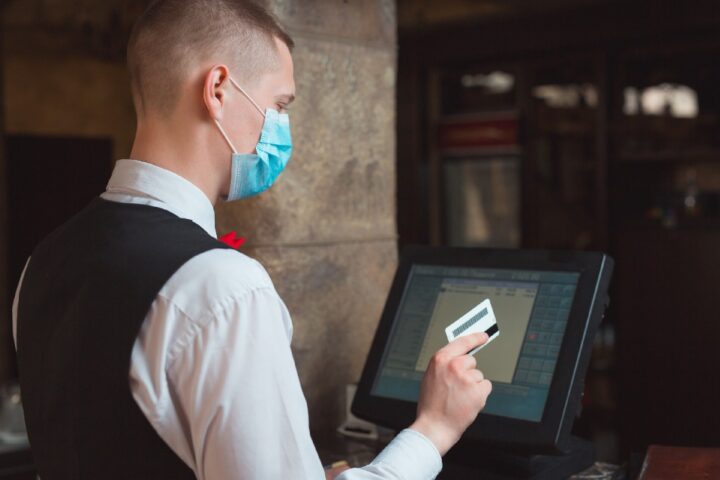 Shift in Dining and Delivery Models
Generational expectations toward dining within life plan and active adult communities have evolved, from necessity, to prioritize the dining experience. Hospitality-inspired environments with a range of offerings are embraced and adopted in many communities. The open kitchen concept, which offers an entertaining behind-the-scenes culinary experience, will continue to thrive and now serve the additional purpose of providing consumer peace of mind.
"I think food transparency will be more important than ever…Prior to the virus, the goal was to show as much of the action in the kitchen as we could along with fresh food being prepared-to-order," said Phillip Dopson, Vice President Design and Retail for Morrison Community Living. "Going forward, both of those will be true along with food safety being easily visible to our residents."
When creating new restaurant venues, the kitchen may move forward into the restaurant with greater visibility from multiple angles.
Density norms will change. In the near term, people will continue to social distance. Every other table will be utilized and the number of people at a table will be reduced to an average of two to four seats. Moving forward, restaurants may become more compartmentalized with smaller spaces or rooms to control large group settings giving the guest an intimate experience while providing enhanced safety.
Outdoor dining will expand, offering an alternative option with a greater ability to social distance. Expanding to the outdoors can be a cost effective way to address density within restaurant venues and provide an alternate experience. Controlling the microclimate within these spaces are key: provide shade, control air flow, and provide comfortable and flexible seating options.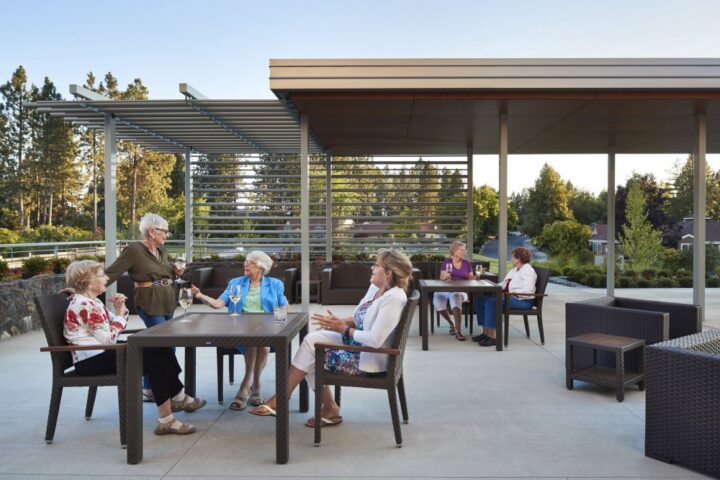 Partnering with food truck vendors within a community provides safe culinary options and offsets the demands on internal kitchens as they address their restaurant re-openings and adapt to more takeout, grab-n-go, and room service.
"Takeout and delivery may see a 30–40 percent increase as an alternative to dining within a restaurant in a life plan community," said Schelley Hollyday, President for The Hollyday Group.
The use of restaurants will shift to an estimated utilization of 60 percent, while retail services such as grab-n-go, takeout, and room service will increase by approximately 40 percent, said Hollyday. Consumers will expect the same level of quality with this retail experience as they do within the restaurants with a focus on execution and food safety.
The shift in utilization between restaurant and retail service will result in greater space demands in the kitchen due to assembly space, holding areas, and transaction areas for takeout; grab-n-go preparation and packaging storage; and storage for food products and supplies. Increased space demands will also increase within the retail venue for the display of prepackaged food.
Another lasting change will be an increase in delivery and room service dining. "Delivery programs that have evolved during COVID-19 are sophisticated, including online ordering, branded packaging, and menus…meals designed to hold up during the delivery process," Hollyday said. "It is expected that communities, which only provided a handful of deliveries outside of sick trays, will need to continue this service at a higher level and more frequently." Additionally, Hollyday recommends clients develop kitchens that can support robust delivery programs similar to hotel room service.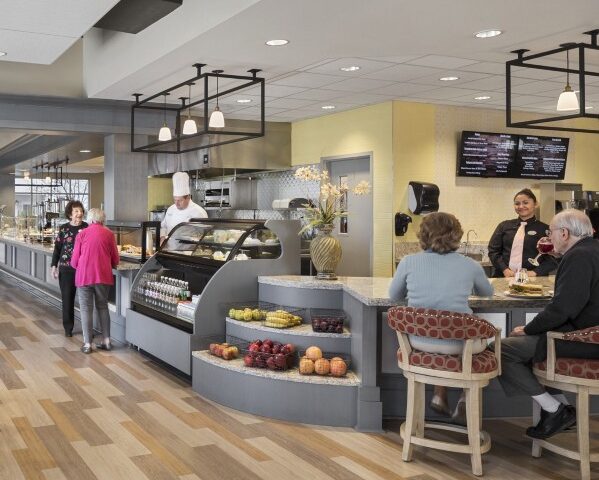 Technology Advancements
As residents become more comfortable with online ordering, communities will also see an increase in the use of technology.
"Touchless technology will be key," said Michael Ventresca, President of Food Facilities Concepts Inc. Ventresca said this will include POS (point of sale) systems, access points including elevators and doors, and the dispensing of food, ice, and beverages.
Robots may be used for food delivery, bussing tables, and cleaning via UV lighting. Touchless takeout systems limit the number of touchpoints by staff, which may become a more common practice as we move forward. Temperature checks and pulse oximeter testing may become common for residents, guests, and staff within the culinary environments and the greater community.
Ultra violet filtration within restaurant mechanical systems may be introduced along with studying alternative supply and return locations that may limit the spread of airborne viruses from within a restaurant from table to table or across the room.
New Perspective on Health and Wellness
From a health and wellness standpoint there will be a "greater focus on knowing where the food you are eating comes from," said Andrey Teleguz, Principal at SCOPOS Hospitality Group. We will see an "increase in local buying and organically grown produce" from within communities.
Operating procedures and maintaining quality will be essential. Addressing what makes a guest comfortable is crucial said James Davella, President and Founder of Davella Studios. He described the importance of visible cleanliness of a restaurant, maintenance by staff of safety protocols, PPE usage, and a perceived sense of cleanliness. Lighter colors, brighter spaces, and easy to clean surfaces will assist in the perception of a clean space.
On the one hand, PPE may increase our sense of protection against viral spread. On the other hand, will we want to eat in a restaurant environment while wearing a mask or with servers wearing masks and gloves?
Self-serve salad bars and buffets are fast becoming a thing of the past. To-go lockers — a new concept for takeout — are a safe, secure alternative with limited human interface, said Ventresca. Based on the demand assessments, these lockers will need a dedicated space (approximately the size of a mail room) near the main kitchen and adjacent to other culinary venues. Ideally the lockers would be accessible from the front by the resident and rear-feed by the culinary staff in the kitchen. These lockers may have warm and cold compartments.
Staff Implications
Due to increased regulations and guidelines, changing staffing models will address food safety and sanitation guidelines and potentially increase the bottom line.
Ventresca said compensation models may change and be consistent with mainstream restaurants attracting more experienced culinary team members. This shift in compensation may also attract professional servers seeking job security, improved benefits, and more manageable schedules.
Professional servers will meet resident expectations from a service standpoint while being more efficient and productive than temporary and seasonal workers, such as high school and college students.
Creating New Paths to Dining
One size does not fit all in addressing a new path to dining within communities. Developing trust with residents, families, and staff is paramount as we move into a new way of providing dining services for residents within life plan and active adult communities.
A community's culinary program represents much more than a necessity — it's an opportunity to create meaningful connection among residents through authentic, memorable experiences.
While our future may look different, those aspects will always hold steady. Placing trust in the culinary team and seeking assistance from design professionals will be essential in addressing the current situation in the years ahead. Working collaboratively with communities, Perkins Eastman is committed to developing strategies that yield solutions for a better future.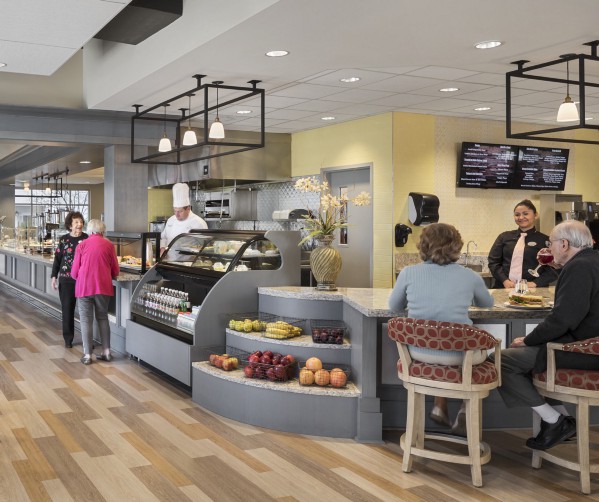 ---
Thank you to all who provided insight and expertise: Joe Hassel, IIDA, Principal at Perkins Eastman, Schelley Hollyday, President of The Hollyday Group; James N. Davella, President and Founder, and Jan Singer, Director of MAS, both of Davella Studios; Phillip G. Dopson, Jr., Vice President of Design and Retail for Morrison Community Living; Michael Ventresca, President of Food Facilities Concepts Inc.; Chef Matt Schuler, Director of Culinary Development for SCOPOS Hospitality Group; and Andrey Teleguz, Principal at SCOPOS Hospitality Group.