Today, Crain's New York Business named Mary-Jean Eastman, FAIA, among its "Notable Women in Construction, Design & Architecture." Eastman co-founded the global firm Perkins Eastman with Brad Perkins when she was only 34 years old, and she's been a champion of elevating women within the industry ever since. Crain's recognition of Eastman among these Top 40 women during the firm's 40th anniversary year feels like a timely celebration.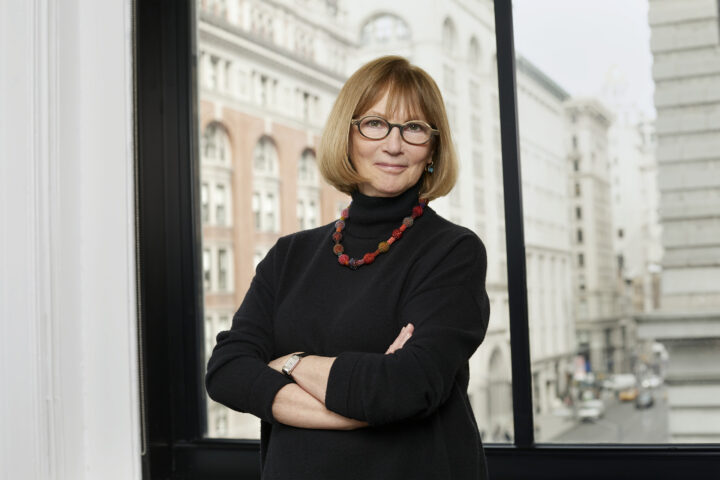 These women are "making significant inroads into the fields of construction, design, and architecture," according to Crain's. "I'm honored, and I'm especially pleased with the progress we've made as an industry in integrating and elevating more women into the field of architecture in general, and within Perkins Eastman in particular," says Eastman, who was one of only six women in a class of seventy when she attended architecture school in the 1960s at McGill University in her hometown of Montreal.
Eastman, a rare female name principal of a large firm, has served on the boards of the AIA New York, New York City Building Congress, the ACE Mentor Program, and Salvadori Center—an organization that introduces teachers to architecture and engineering so they can transfer STEM knowledge to their students. At Salvadori, Eastman has aimed to reach girls early who might have an interest in the sciences and, specifically, architecture. In 2012, Eastman founded the Perkins Eastman Women's Leadership Initiative to nurture other women leaders across the firm. Today, half of those in leadership positions are women.
Eastman proudly points out that three women—Hilary Kinder Bertsch FAIA, Barbara Mullenex, AIA, and Supriya Thyagarajan, RA,—were elevated to join her on the firm's Executive Committee earlier this month. And two more women, Rachel Birnboim, AIA, LEED AP BD+C, and Jean Gath, LEED AP, were promoted to be co-managing principals of the New York City studio, which ranks consistently in Crain's New York's ranking of the top five architecture firms in the city. Eastman applauds the changes she has witnessed over the years. "Women have come a long way since I studied architecture in the '60s, a time when parents sent their daughters to college to find husbands."
Eastman has inspired countless women, including Mullenex, to aim higher. Mullenex came to Perkins Eastman's Washington, DC, studio nine years ago after owning her own firm, OPX, for twenty-seven years. "I've learned over the last two years through my involvement with the firm's DE&I Committee how important it is for women and people of color to see people they can identify with in the highest positions. They're often on a harder, more challenging path, and sometimes they get discouraged and lose their way. I never had that [person to emulate] until I met Mary-Jean Eastman. I am honored to be in a position to have people think, 'If she can do it, I can too,'" Mullenex says.
Eastman's leadership over the years has resulted in many notable projects for the firm, among them The David H. Koch Center for Cancer Care at Memorial Sloan Kettering Cancer Center, where she has developed relationships that span decades. This healthcare center, which creates a new model for 21st-century cancer care and is both the city's and the institution's largest freestanding cancer center, has garnered multiple awards, including the AIA/AAH Healthcare Design Award 2021, three Innovation by Design awards from Fast Company magazine, and Best of Year in Healthcare given by Interior Design magazine (2020).
To learn more, don't miss the in-depth interview that spans her trailblazing career, "Mary-Jean Eastman Paves the Way, Building an architecture firm with Grace and Grit" in The Narrative, Perkins Eastman's in-house magazine.