Healthy people rely on a healthy planet. We want to breathe clean air, drink clean water, and live and work in well designed, well ventilated, comfortable buildings. That's why we as leaders in the architecture, engineering, and construction industry are coming to terms with the fact that these buildings account for a whopping 40 percent of the harmful emissions that are causing the worldwide climate crisis. It's upon us to design, renovate and build structures that are cleaner and greener – but policies and standards from the top of the U.S. government can do a lot to kickstart the process.
Perkins Eastman is among more than 150 of the nation's top AEC firms that have signed a letter to the Biden-Harris Administration, urging its climate leaders to include building-sector policies among President Biden's actions to combat climate change.
The letter, made public on March 10, makes clear that the built environment is more responsible for carbon emissions than many might realize. Carbon is released from the energy consumed during a building's operation – heating and cooling, hot water heaters, electricity – when that energy is derived from fossil fuels such as natural gas and coal-fired power plants. Building materials such as steel, cement, and glass are other offenders, because they take so much carbon-producing energy to manufacture. Add the emissions from the transportation of these materials to the construction site, and it becomes clear that our sector needs to play an outsized role in thwarting a crisis that's displacing and even killing people through oppressive heat, violent storms, runaway wildfires, and destructive flooding.
New energy-efficient building and manufacturing technologies can go a long way toward reducing emissions and producing other benefits in the process. "While combating climate change, we are also dedicated to transforming our communities for the better by addressing critical public health, water, material toxicity, and social equity challenges," the letter states. "We look forward to bringing our collective expertise to bear on the cross-agency built environment challenges and transformations that are foundational to the Biden-Harris Build Back Better plan."
By signing on with our peers who are also designing and constructing buildings throughout the United States and across the world, we are joining the efforts of thousands of local governments, businesses, campuses, healthcare organizations and faith communities that have already pledged to go green. More than 3,900 groups affirmed that We Are Still In the Paris Climate Agreement after the previous administration pulled out of it in 2017. Now that we've rejoined the agreement, there's no time to waste.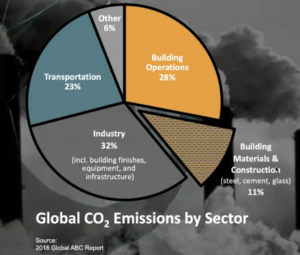 Our industry's letter evolved through a series of summits and ongoing conversations among the Sustainable Design Leaders coalition – experts in the field who wanted to take advantage of President Biden's stated urgency to make sustainability a priority across the federal government. "We have a narrow moment" to act, Biden wrote in an executive order on Jan. 27, "marshaling the creativity, courage, and capital necessary to make our nation resilient in the face of this threat."
To that end, Perkins Eastman Director of Sustainability Heather Jauregui says,
"This is an opportunity for the new administration to address sustainability in ways that can transform the built environment. As sustainability leaders, we want to make sure we're taking the right stand."
The letter outlined broad recommendations to National Climate Advisor Gina McCarthy and David Hayes, Special Assistant to the President for Climate Policy. They prioritize areas where the federal government can set industry standards, harness existing research and commission new studies, and also lead by example in the operation of its own buildings. They fall in the following categories:
Enhance Federal Building Standards
Stimulate Building Reuse and Upgrades
Promote Healthy Housing and Resilient Communities
Electrify to Achieve a Carbon-Free Grid
Promote Material Health and Product Transparency
Promote Healthy Schools For All
Perkins Eastman signed on to the letter because it aligns so closely with our ethos: Human by Design. We believe design can have a direct, positive impact on human lives and the planet itself. It's our responsibility as a global architecture, planning, and design firm, therefore, to go big on reversing our negative impact on the environment – and to advocate for this change at all levels.
More significantly, our work already embodies the goals outlined in the letter's recommendations. Following this article will be a series of posts highlighting projects that illustrate each category and show how healthy, sustainable buildings not only improve their occupants' comfort and wellness, but also benefit the communities that surround them.
President Biden's executive order outlines action plans that call for agencies across the government "to use the power of procurement to increase the energy and water efficiency of the United States Government installations, buildings, and facilities and ensure they are climate ready." And beyond government buildings, it adds, "this Nation needs millions of construction, manufacturing, engineering, and skilled-trades workers to build a new American infrastructure and clean energy economy."
Our industry stands ready to help the Biden-Harris administration shape these visions into reality.