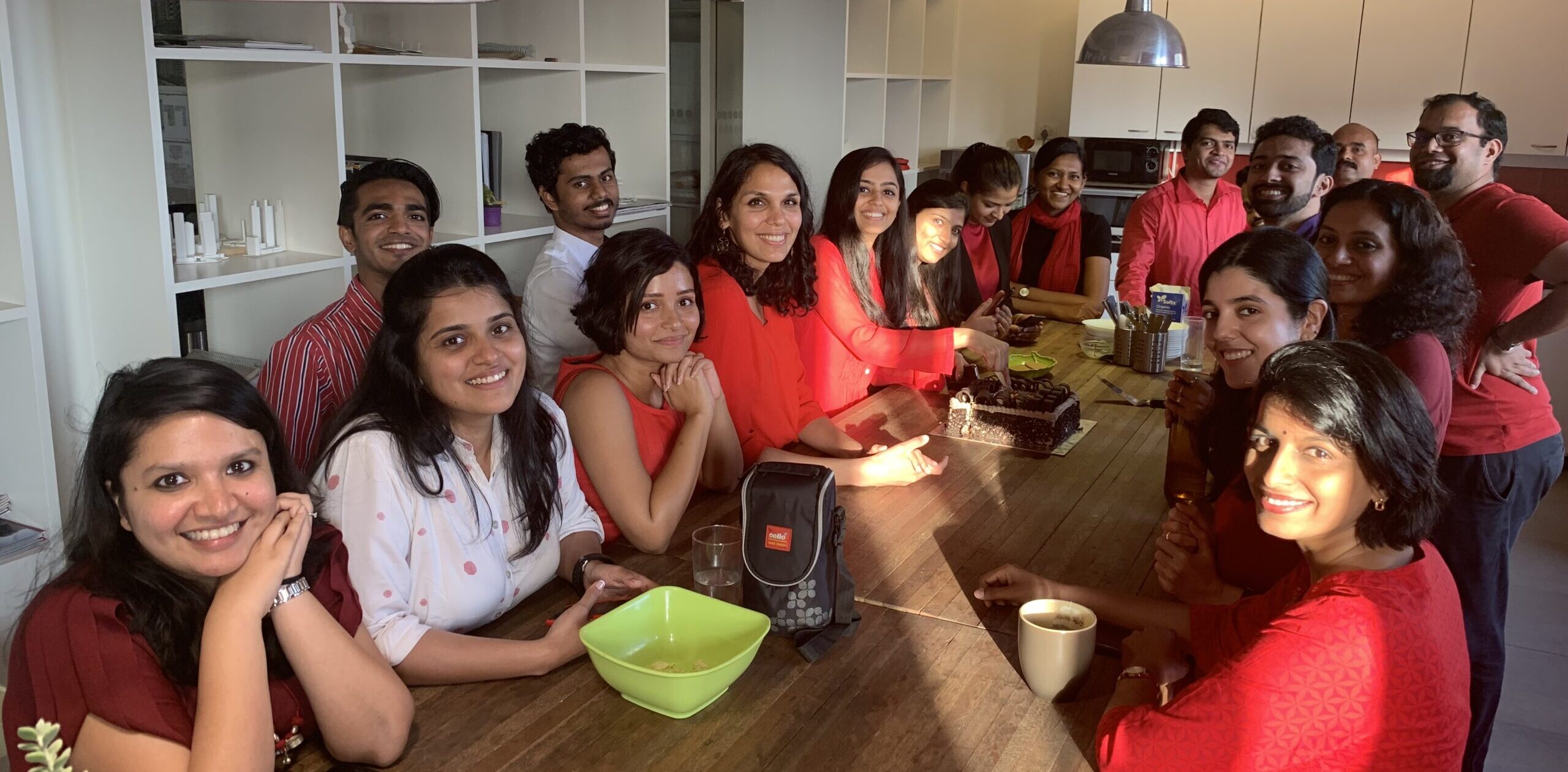 For the Perkins Eastman studio in Mumbai, breakfast is the most important meal of the day. Nia Puliyel shares her inside perspective on what makes our Mumbai studio so special.
---
On my first day at Perkins Eastman four years ago, I was startled to find the entire office sits together at the long pantry table for breakfast. As I sat at my newly-assigned desk, ramrod straight in my most formal work outfit, my colleagues trickled in, and headed straight to the pantry.
Every working day in the Perkins Eastman Mumbai studio starts around 9 a.m. at the pantry table with staff sharing their breakfasts and making coffee, discussing their projects and their meetings, or their weekend escapades.
Over the course of my first week, my posture relaxed, and so did I; I soon joined the beeline to the pantry table.
It has been more than 100 days since the Perkins Eastman Mumbai studio closed because of the coronavirus. This is an office that takes every opportunity to eat together, commute together, and have fun together. Most members of our team, which includes people from diverse cultures and backgrounds, commute an average of an hour-and-a-half each way to work, and breaking bread together — breakfast, lunch, and dinner — is a way of life for us. With our lives so heavily intertwined, it is a completely bizarre experience to not see our colleagues in person for so long.
It feels very strange to be celebrating 10 years of the Perkins Eastman Mumbai studio physically apart from one another.
On the 27th of July, the Perkins Eastman Mumbai office is turning 10. In the last decade, we have moved from Ballard Estate to our current location in the historic and highly picturesque area of Fort. Our office is well lit, breezy, and spacious — unusual in Mumbai, which is notoriously tight on space. It is also home to two highly sacred spaces — our pantry table and an equally revered ping-pong table.
Over the course of 10 years, the Perkins Eastman Mumbai office has been responsible for shaping a variety of projects. We have brought our Human by Design sensibilities to all of our work and our impact has reached healthcare, senior living, residential, education, and masterplan projects across India and Southeast Asia. Our influence extends much further, we have collaborated with Perkins Eastman teams in Dubai, Los Angeles, Shanghai, Charlotte, San Francisco, New York City, and Washington, DC, on projects around the world.
One of the major projects we have been involved in are the AIIMS healthcare campuses across India on which we had seven Perkins Eastman offices globally collaborating in four different time zones with close to 15 consultants in each. We designed, and have now built, close to 1.5 million square feet over the course of eight years for Ashoka University, the first liberal arts college in India. We are now working on the new Ashoka campus as well.
In between work we have had group initiatives led by staff including sustainability drives, fitness challenges, the Women's Leadership Initiative, and the Mumbai studio culture club meetings.
Over these past 10 years, we have had some great colleagues working on our team. Each of them has helped shape what our office has become today, contributed to our work, ethos, and most importantly, our breakfast banter.
Our Mumbai studio is tentatively scheduled to reopen in early August, after four months of closure. While we don't fully know the challenges of designing in a COVID-19 and post-COVID-19 world, we know we will tackle them as a team. Whatever the next 10 years bring, one thing is for certain — if you come in to the Perkins Eastman Mumbai studio in the morning you will find us at the pantry table, sharing our breakfast together.