Is the coronavirus the end of retail as we know it? With the holiday shopping season upon us, a great deal of speculation and concern is circulating about the future of retail and shopping. The statistics are dire. Across the country, as many as 25,000 stores in urban centers could close permanently by the end of the year, according to Coresight Research. Major retail brands — such as Neiman Marcus, Lord & Taylor, Brooks Brothers, J. Crew, and JC Penney — have gone, or will be going, bankrupt, and in some cases, closing permanently. Many of the shopping districts that historically relied on these anchors to attract shoppers are in trouble, and mall and retail property owners are quickly trying to reposition their properties to adapt.
Brad Perkins, FAIA, MRAIC, AICP, Chairman and Co-Founder of Perkins Eastman, has been monitoring the impact of the coronavirus on shopping districts in New York and beyond.
"In New York, the situation is very serious. Hundreds of restaurants and retail stores have closed and many more will not survive the winter. All of this has led to people predicting that the central shopping districts of major cities are dying and will never fully recover."
But Brad's many years' working with commercial real estate, retail, and mixed-use clients worldwide have given him perspective.
"I might be more worried if I had not heard this same prediction several times before," Brad remarks. "The great world cities have always come back — in many cases stronger than before. This was the case in New York City during the recessions of the 1970s and again in the 1990s, and neither of those eras resulted in the end of dedicated shopping areas," he adds. Instead, Brad believes "the pandemic is just accelerating changes that were already underway. The spaces devoted to retail and shopping are not disappearing, they are evolving."
Brad's predictions, which follow below, highlight how vital repositioning, adaptation, and flexibility will be for the evolution of the urban shopping district: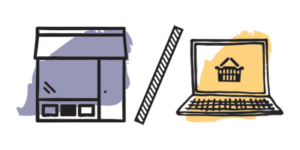 1 | Balancing brick-and-mortar with e-commerce
E-commerce was part of the retail landscape long before the pandemic. Over the last 20 years, most large- and mid-size retailers and brands have built an active online presence, allowing customers the flexibility to shop for products over the Internet. As the coronavirus continues, these changes in shopping methods are only becoming more habitual. The 22 percent surge in online shopping on Black Friday that reached a record $9 billion in sales in the U.S., according to Adobe Analytics, illustrates that the pandemic is leading more people to shop from the comfort of their sofas than to risk heading to crowded stores. Additionally, this year Cyber Monday had its biggest online shopping day ever in the U.S., according to Adobe Analytics.