The year was 1981: It started with the inauguration of Ronald Reagan and ended with Muhammad Ali's final fight. In between, the first space shuttle would orbit the earth, Prince Charles and Lady Diana would wed, and Harrison Ford would introduce the world to the legendary Indiana Jones in Raiders of the Lost Ark. Against these backdrops, Brad Perkins and Mary-Jean Eastman would establish a new architecture firm together, opening an office near Times Square with a small but ambitious team of 24.
Forty years later, the firm has grown to rank among the world's giants, with more than one thousand employees working in twenty-two studios worldwide. To celebrate this anniversary and the milestones that paved its way, Perkins Eastman has published a special edition of its magazine, The Narrative, a previously in-house publication being released publicly for the first time.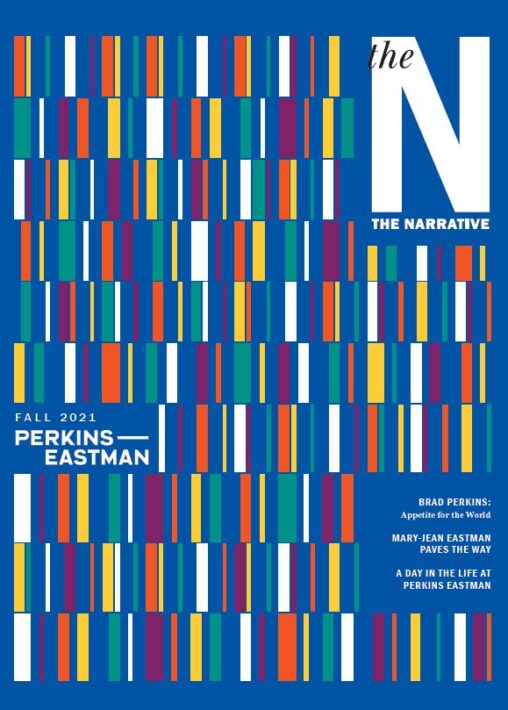 The magazine includes a pull-out section tracking the firm's legacy, pulled from a more detailed timeline that's now on the website.
Look inside, and you'll see:
"A Day in the Life of Perkins Eastman" illustrates how far the firm has come, with a snapshot of the myriad work taking place over the course of ten hours, coast to coast and country to country.
Our co-founders reveal much of themselves in this special issue. Perkins, a devoted foodie, lists the meals that helped him network his way to the firm's success. In an interview with Communications Director Trish Donnally, Eastman describes how her ambition survived her parents' refusal to pay for architecture school, and her continuing passion to encourage more girls to enter the profession.
Little known PE facts. "Forty things to know about Perkins Eastman" reveals which project made an appearance in a major motion picture, which architect confused her pregnancy with COVID-19, and which studio transforms itself into Santa's workshop every year, among many other memories and accomplishments.
And of course, readers can take a deep dive into the work and values that define Perkins Eastman's Human by Design mission, whether it's placing patients first in healthcare; striving for the healthiest, most sustainable designs from schools to the workplace; designing buildings and public spaces with "gestures of empathy" toward the people who use them; or using water itself to inform large-scale waterfront developments from Nashville to DC to Shanghai.
It's all here in The Narrative's digital issue, which we hope you'll share with industry peers, colleagues, and others.
Bonus: Can you name all the PEople in our Flashback gallery? Click here for the answers!